What is Scripted?
Scripted, found at Scripted.com, is (at its core) a content mill. They facilitate the relationship between writer and publisher by providing a platform where publishers (that's you) can post assignments and projects, writers can pick them up and write them, site editors can review them, and money can change hands.
Content mills and platforms like this stand in contrast to something like the ProBlogger job board, where you can post a job opening for a writer and have writers apply, but everything else – from pay to editing to plagiarism detection – is your own responsibility.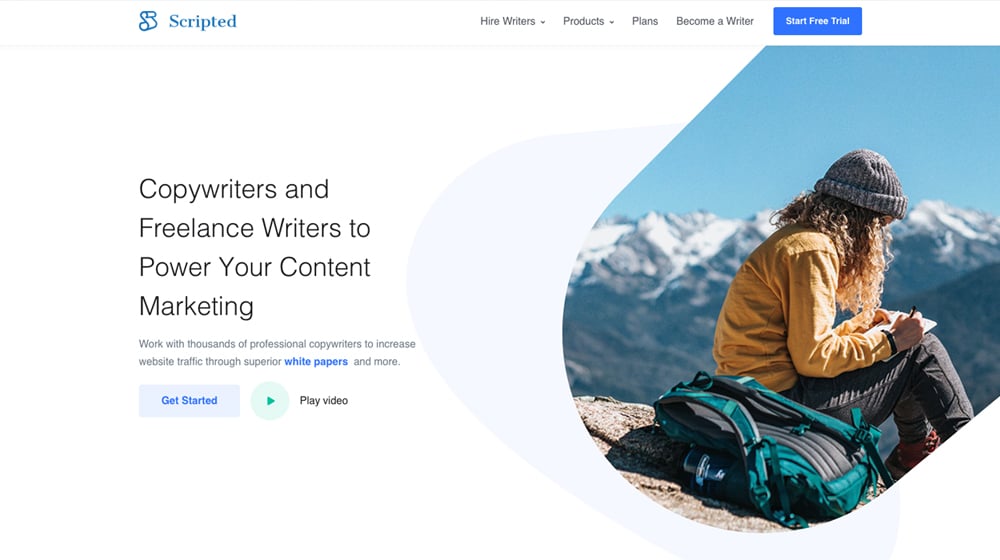 There are benefits to content mills and their upscale brethren. Primarily it saves you time. Every moment where you might have a contract dispute, every minute you spend dealing with invoices, every editing request where you have to negotiate with a writer; that's all handled by the platform instead of by you. You're free to simply post an assignment, get writing in return, and post it.
The exchange for this is, of course, money. Hiring a writer directly is generally cheaper than hiring the same writer through a content mill because the content mill takes its own cut of each sale. You also might not be able to contact writers directly. Sites like Textbroker, for example, actively monitor and censor communications between client and writer to avoid publishers poaching their good writers. Some writers have distinctive enough usernames you can look them up, but that's not always possible.
Anyway, about Scripted itself. Scripted is a content mill that provides a variety of different kinds of writing, from social media posts and newsletter copy to website content and blog posts. The process is pretty simple.
You join Scripted. They have a 30-day free trial of their membership, but you still have to pay for the content you order.
You create a project. Projects can be anything from a single one-off white paper to an ongoing series of blog posts, and Scripted offers a variety of tools to help you put together a project with the right requirements to attract proposals from talented writers.
Writers submit proposals. You have a pile of pitches or applications, and can choose to accept and hire any number of the writers. Once you accept a proposal, the writer gets started working and sends you their finished product's first draft.
You review the writing. Once you receive a draft, you have a few days to either approve it or request revisions. If you approve it, the content becomes yours to do with as you wish. If you request edits, you go back and forth with the writer until one of you drops the project or you are satisfied with the content and accept it.
You don't have to pay for the content you don't like, unless you ignore it long enough to hit the auto-accept period. This process exists to protect writers from scammy businesses, by the way. Content mills that don't use a process like this have a big problem with businesses that order content, take it to use, and never pay for it. Scripted (and mills like Writer Access and Textbroker) use an escrow system to take your money and hold it to pay for content unless it's explicitly rejected. That way writers aren't burned and don't leave the platform.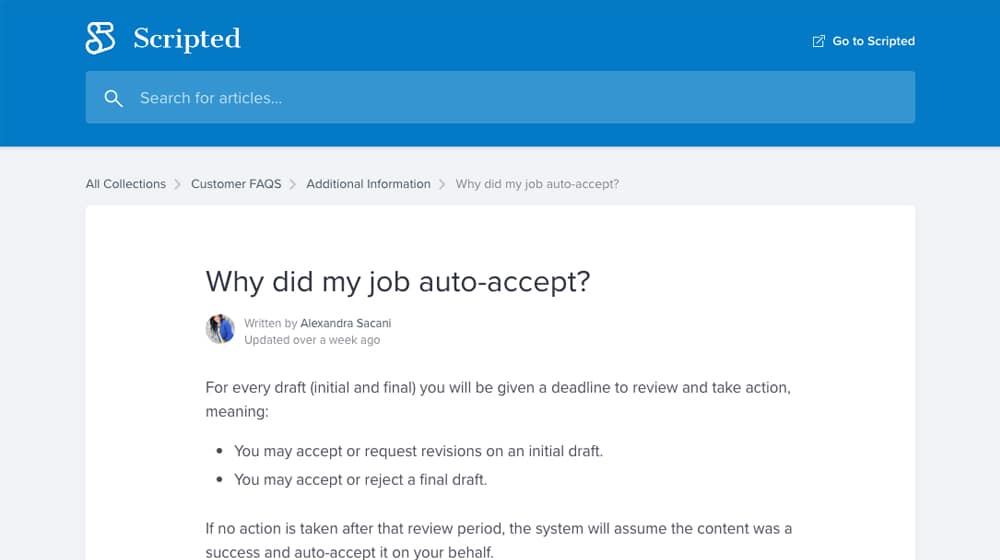 It's worth mentioning that Scripted currently does not have writers in the state of California. This is a bummer if you want CA-local writing, but it's due to the AB5 legislation California passed last year that threw a lot of gig work and freelancing into chaos. You can read more about that here. Basically, until the legal implications shake out, a lot of freelance hubs, content mills, and other portals have stopped working with CA-based freelancers.
So, speaking of money, how much does Scripted cost?
Scripted Pricing
So how much can you expect to be paying to use Scripted? There are two costs you have to keep in mind, and you'll be paying both.
First, there's the membership fee. The membership fee determines what tools you have access to, what pools of writers see your proposals, and whether or not you have an agency representative to manage it for you. Big brands, for example, might have a dedicated account manager working for Scripted who handles everything for you and just delivers content to your blog. Smaller brands might need to use some of the other self-service platforms, as the fee may not justify their monthly usage.
For memberships, there are four tiers.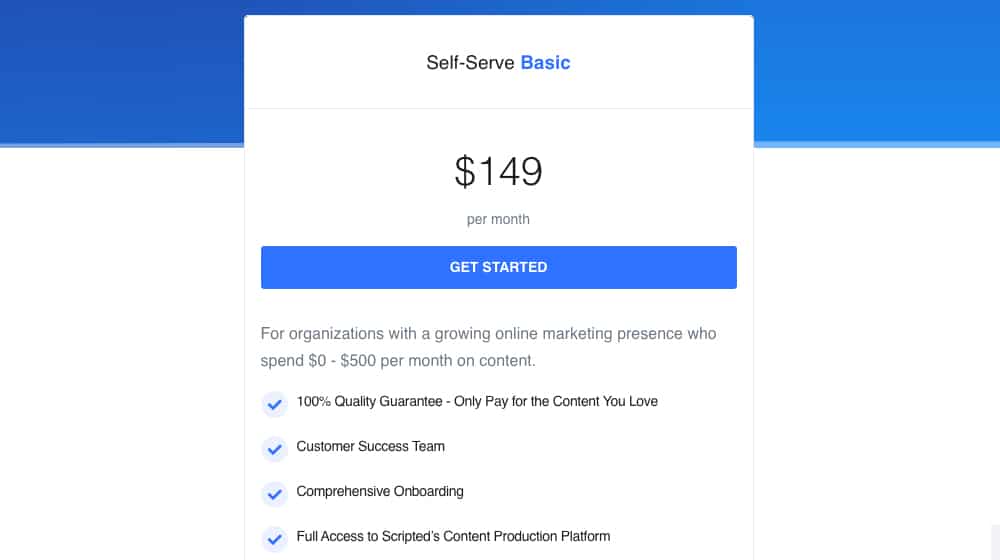 Basic is the cheapest plan and costs you $149 per month. You get their "only pay for what you love" guarantee, and you have access to their "customer success team", which is like an account manager for everyone on this tier. They don't learn specifics about your brand or customize things for you, but they can help. You also get onboarding, full access to their content production platform, and access to the basic writer pool.
The basic writer pool is a pool that all of Scripted.com's writers have access to and is generally the lowest quality. It's not necessarily bad, per se, but since there's no barrier to entry, there will be some writers who are less talented or where English is their second language. The quality will be more hit-or-miss, as compared to the Premium pool.